The Most Stylish Pre-Draped Saris for the Festive Season and Beyond
Presenting, a curation of the must-have pre-draped saris this festive…
It's been a few months since actor Zendaya created a furore in her Rahul Mishra pre-stitched sari-gown, and we still can't get over how effortlessly she pulled it off. Of course, extra praise must be doled out on this slip-into-it-and-you're-ready creation—pre-draped saris are just what the upcoming festive season needs.
And while we appreciate the romance of pleating and draping the nine-yards for an evening out, the busiest evenings call for quick solutions… Shake hands with pre-draped saris that celebrate craftsmanship and technicality in equal measure. Contemporary and traditional at once, this modern staple can well be considered a timeless classic, and certainly an essential for the intelligent wardrobe.
Presenting, a curation of the must-have pre-draped saris this festive season…from the exquisite embroidery to vibrant florals, dive into these styles that work just as well for Diwali-card parties as glam dinners and wedding functions. A ruffle-sari is perfect to shake things up a bit, and floral-printed pre-draped styles double-up as pieces for a haldi ceremony followed by an evening of playing cards.
While single-hued styles from 431-88 by Shweta Kapur, Amit Aggarwal, Shantnu & Nikhil, and Itrh can be dressed up with statement jewellery, there are more traditional styles created by Tarun Tahiliani, Falguni Shane Peacock, and Arpita Mehta that can be worn to more formal gatherings. And for those who enjoy a bouquet or prints, floral-themed creations are galore, from Papa Don't Preach by Shubhika, Nikita Vishakha to Rishi & Vibhuti, Paulmi & Harsh, and more.
To style up things a notch this season, pairing your sari with a jacket, collared shirt, or a cape style, which are big trends this season.
Amit Aggarwal, Metallic Draped Saree
₹175,000
Dhruv Kapoor, Handcrafted Tie-Up Shirt
₹19,500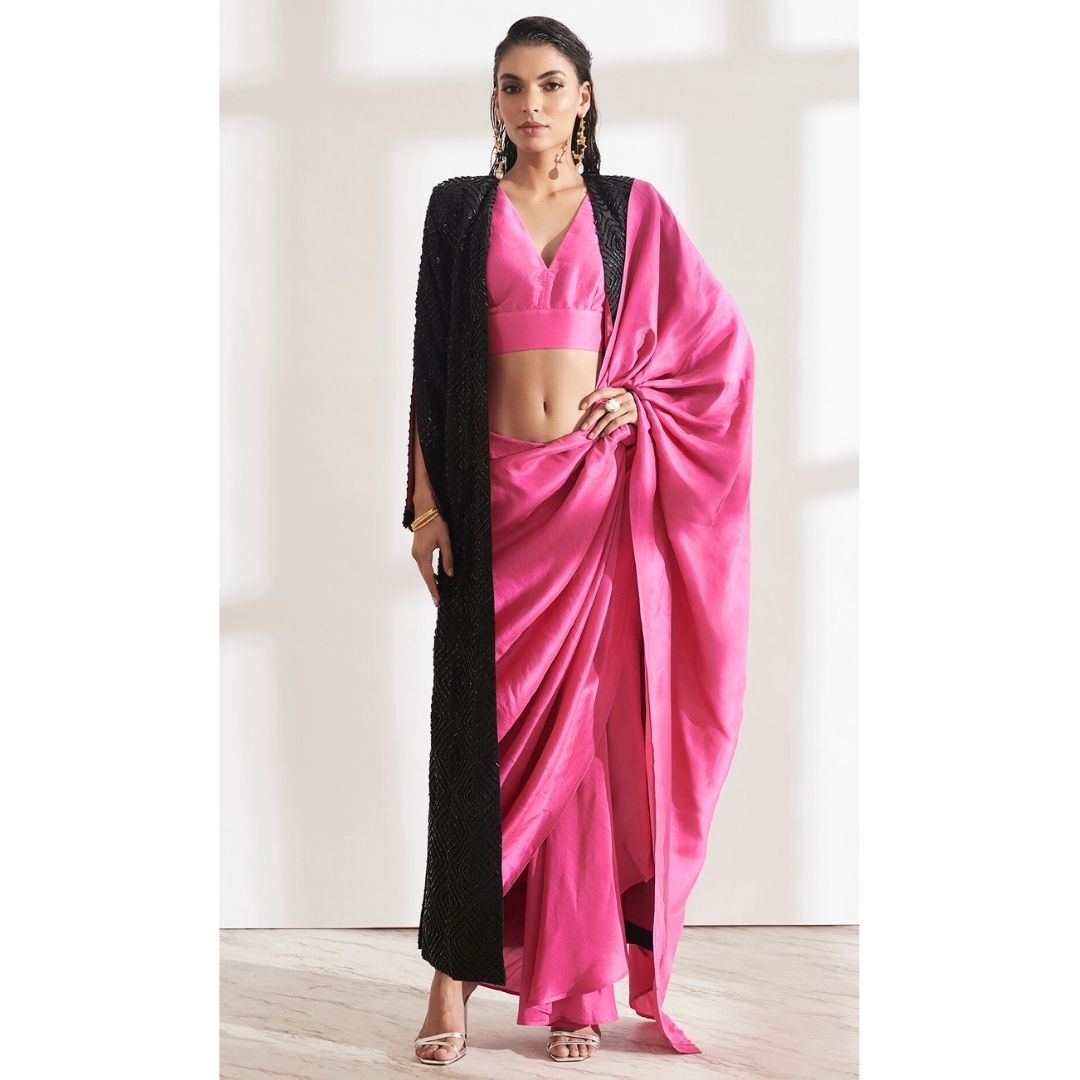 431-88 by Shweta Kapur, Fuchsia Pre-Draped Saree
₹28,500
Papa Don't Preach, Chrissy- Blue Pre-Stitched Embellished Saree Set
₹1,56,000
Pooja Bagaria, Daisy Flower Printed Bling Saree
₹28,995
Mahima Mahajan, Ira Pre-draped Saree and Embroidered Blouse
₹55,000
Paulmi and Harsh, Pre-Draped Sari
₹36,800
Shantnu Nikhil, One Shoulder Rust Saree Gown
₹46,500
Devika Bhayana, Wisteria Draped Saree Set
₹65,000
Ri- Ritu Kumar, Iraa Embroidered Pre-Draped Saree
₹39,000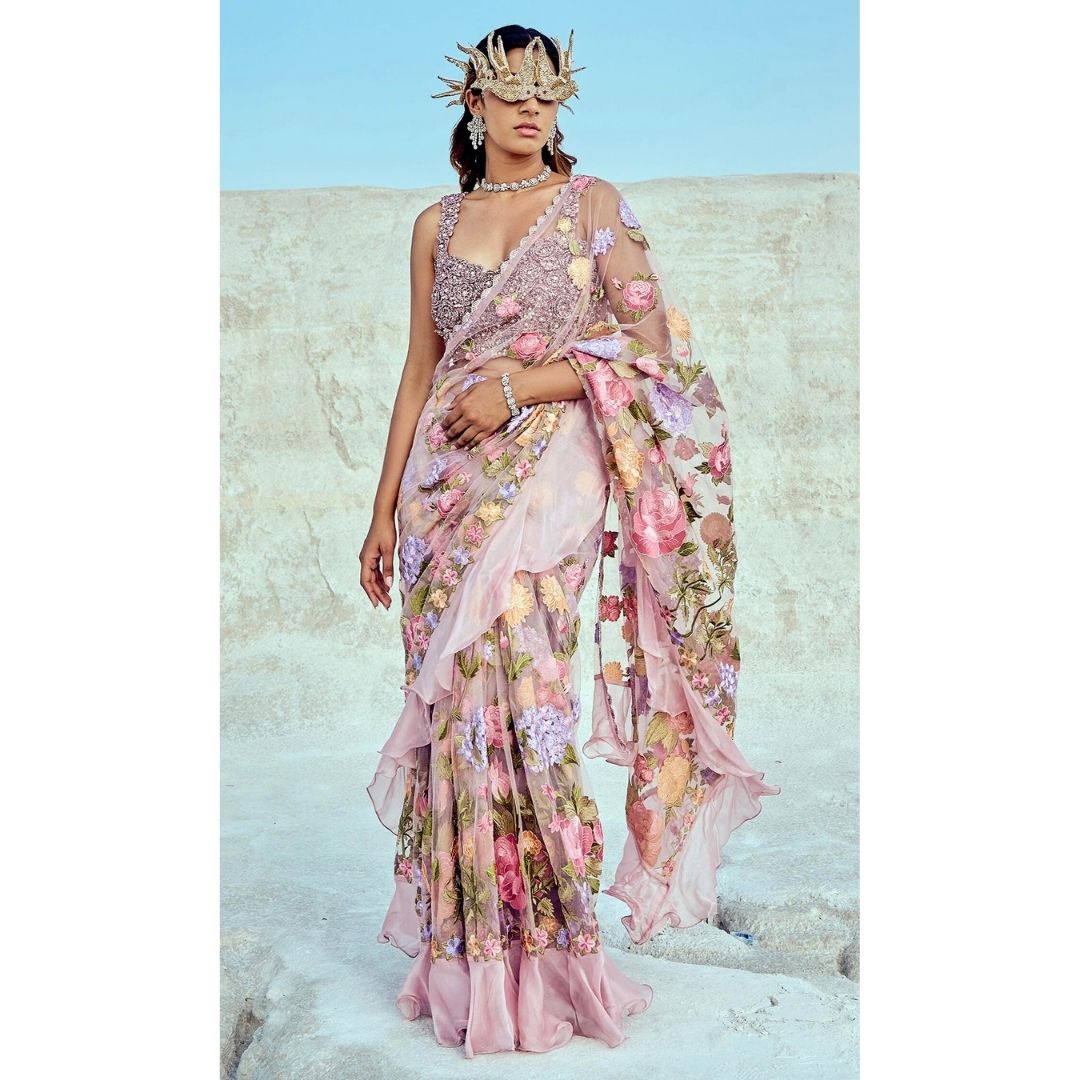 Nikita Vishakha, Purple Jacquard Pre-Draped Saree With Embroidered Blouse
₹42,000
Nirmooha, Emerald Sequin Lurex Pre-Draped Saree Set
₹27,795
Sanya Gulati, Ink Blue Georgette Pre-Draped Saree Set
₹40,000
Panihari, Light Pista Satin Crepe Pre-Draped Saree Set
₹28,500
Ridhima Bhasin, Cruise Teal Pre-Draped Jacket Saree Set
₹60,000
Divya Aggarwal, Red Georgette Embellished Pre-Draped Jacket Saree Set
₹66,000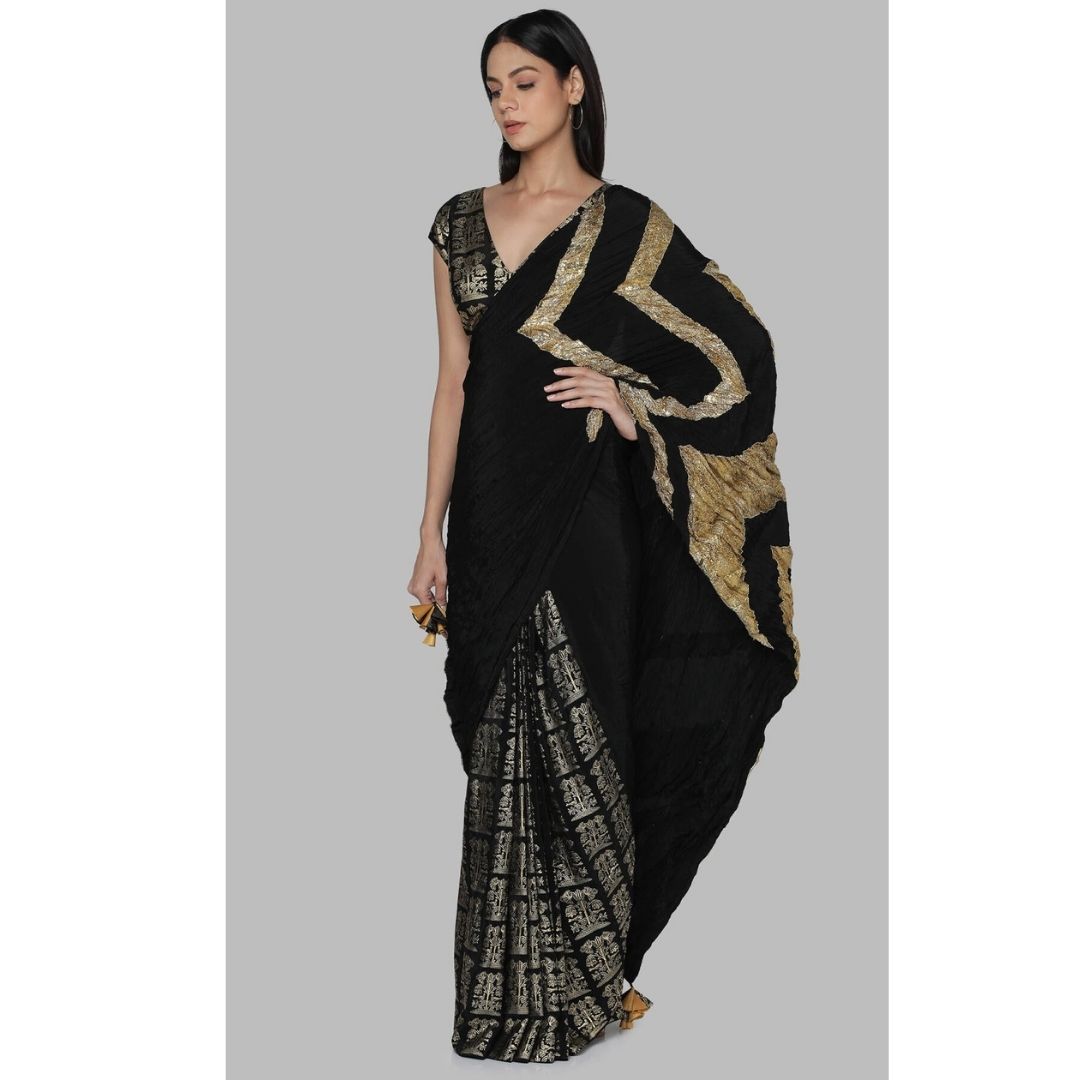 House of Masaba, Black Bunch Of Birds Crinkle Gota Sari
₹24,000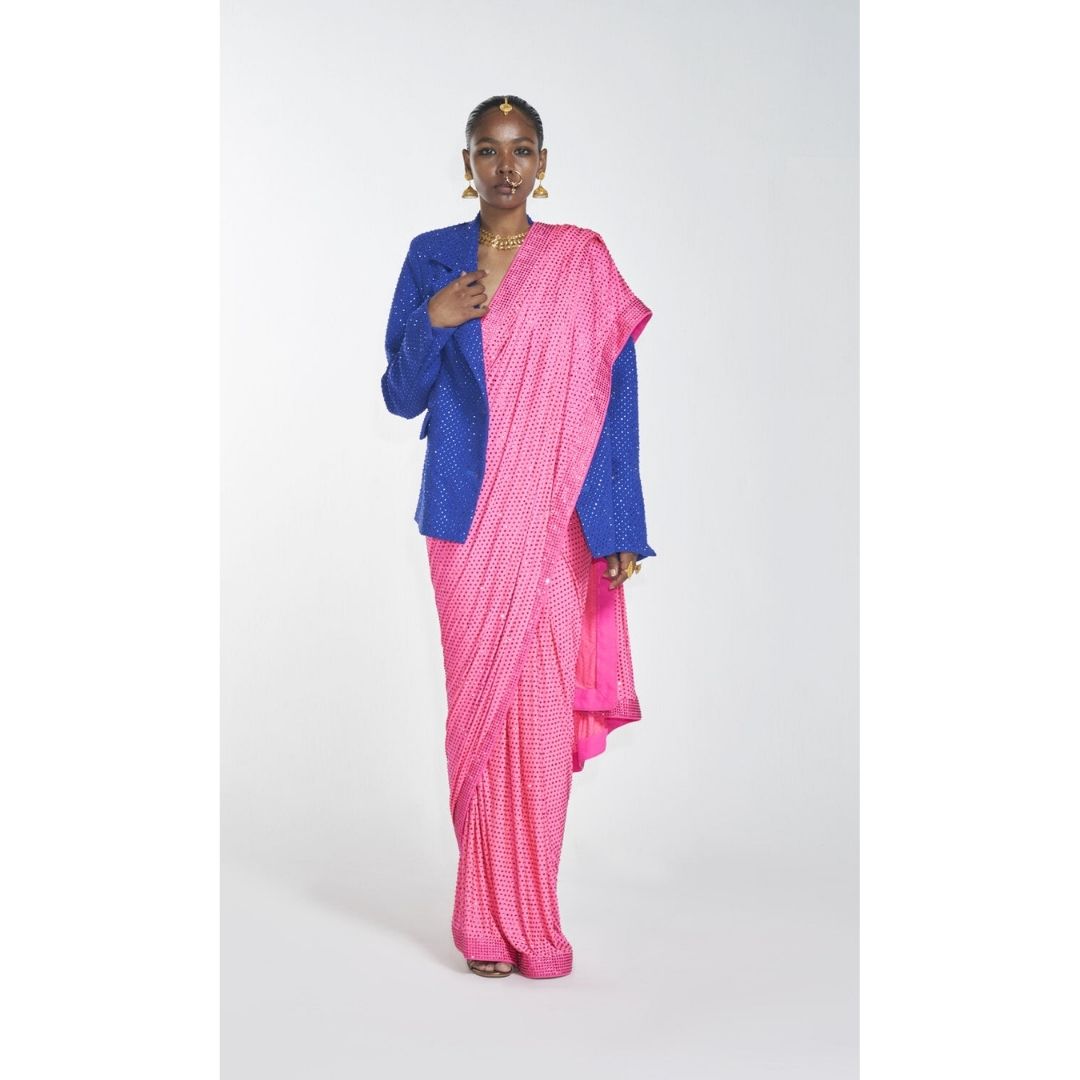 Itrh, Pink Drape Fusion Sari
₹1,39,999
Rishi & Vibhuti, Blue Crepe Floral Print Pre-draped Saree
₹14,850
Dolly J, "Shanayah" Ivory Kamdani Chiffon Sari
₹1,20,000
Rajdeep Ranawat, Rose Pink Printed & Embroidered Pre-Draped Saree Set
₹38,000
Shivan & Narresh, Surocco Shellace Tailored Sari With Bustier
₹1,19,950