10 Iconic Blouses by 7 Designers to Love Forever 
Design mavericks dwell on their signature creations that have made a mark.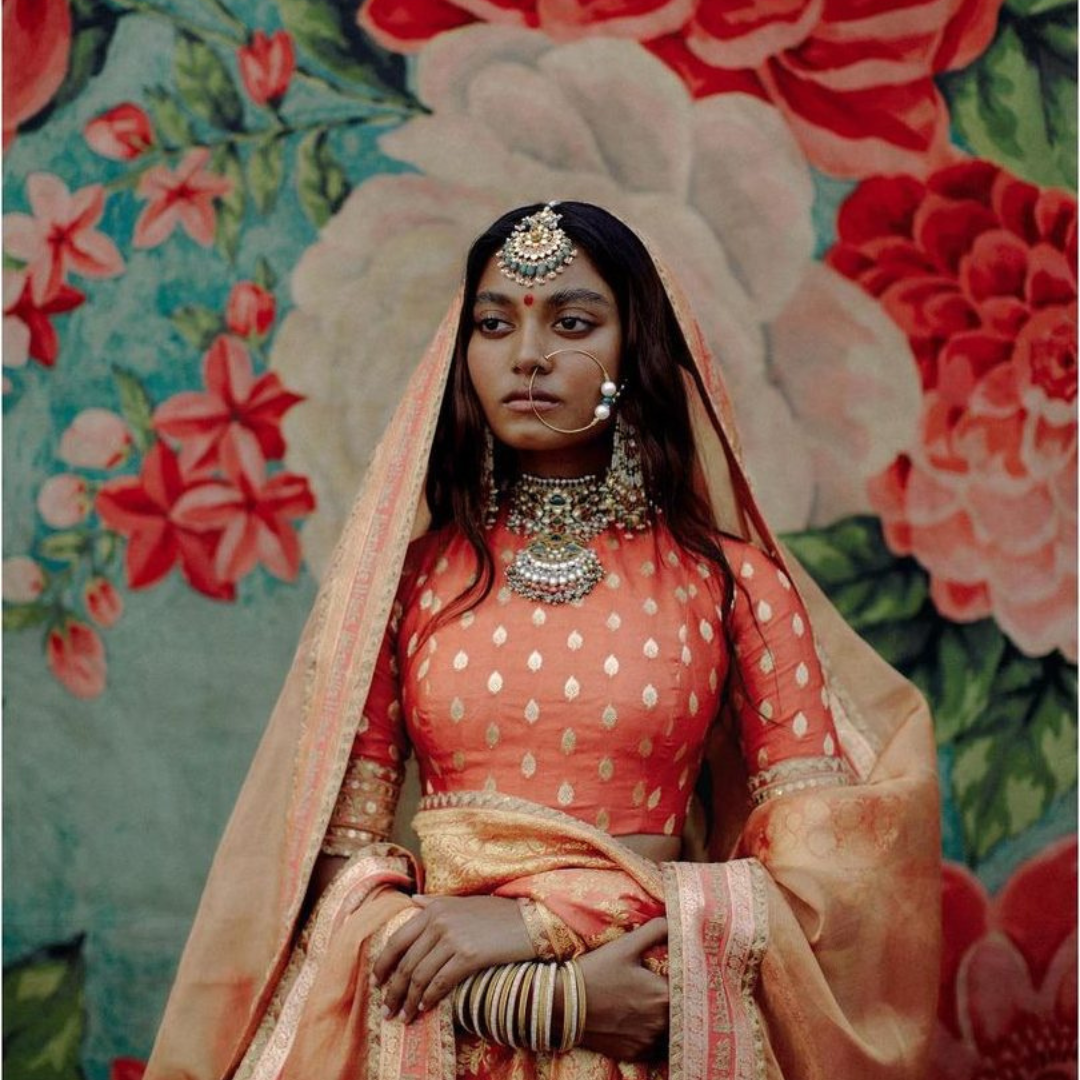 The sari blouse can easily be hailed as India's most iconic separate. Sensually charged and a metaphor for delicate-yet-bold, this iconic creation epitomises effortless allure. Over the years, this feminine weapon of seduction has been reinterpreted and recontextualised, often taking the form of a coquettish corset, sometimes even moulded into a kicky breastplate. It was Jnanadanandini Tagore, a social reformer and and wife of Bengali poet Rabindranath Tagore's elder brother Satyendranath Tagore, who put the spotlight on the blouse a century ago, making Victorian-style blouses immensely popular. Cut to the present, and it's raining concept blouses, come-hither bustiers, and chainmail cholis.
The Word. spoke to some of India's leading designers about their signature blouses, which makes their presence felt on the runway and the red-carpet, season after season.

ABU JANI SANDEEP KHOSLA: THE TEMPLE JEWELLERY BLOUSE
The Mumbai-based duo has had a long history of creating one-of-a-kind, statement blouses. "Two of our most memorable blouses, in the last decade, have been the one actor Sonam Kapoor Ahuja wore at her mehendi in 2018, and supermodel Gigi Hadid's South Indian temple jewellery blouse worn with a chikankari drape to the Nita Mukesh Ambani Culture Centre (NMACC) Opening Gala in April this year," recalls Sandeep.
At the NMACC opening, Gigi Hadid wore a blouse inspired by the Kamasutra and South Indian temple jewellery. A magnificent meld of complex gold ornaments and beads were used to create this dramatic piece. "The silhouette is a cropped sleeve jacket edged with bold tassels that give it an air of drama. This blouse is part of a series that experiments with gold jewellery and coins stitched onto cholis, jackets, skirts, and dresses," Abu says. 
The designer-duo believes that true beauty is forever; it is only reinvented to create new expressions. "We never create gimmicks that become irrelevant after a season or two. We set lasting standards of style that keep thrilling generations of wearers," quips Sandeep. 
SABYASACHI: THE ROUND NECK AND V-NECK BLOUSES
The 'Sabya Blouse' has become synonymous with Kolkata-based designer Sabyasachi Mukherjee, and after the season of the round neck blouse, the plunging neckline has established firm footing as the 'it' design. Handcrafted in heritage textiles and boasting delightful prints, this blouse design has become a key insignia in the brand's collections, exuding an innate sense of confidence, sexiness, and feminine power.
Over several seasons, these visually arresting designs have become an enduring icon, seen on style savants, artistes, and opinion shapers. Rekindling its timeless and seasonless appeal, Sabyasachi has experimented with various hues and his signature surface embellishments. The ornate bloom prints and appliqués on these iconic blouses cast a celebratory spell, letting the ensemble do all the talking.
It's not hard to understand how Sabyasachi's creations form a bridge between the past and the present. A meeting point of India's rich cultural history and modernity, they bring to mind some significant Indian artworks and culturally relevant moments. Styled either with a statement necklace or with a maang tikka, the round and V-neck blouses stand the test of time.
MANISH MALHOTRA: THE PLUNGE HEART AND CRISS-CROSS BLOUSES
Synonymous with sequinned bralettes, Manish's showstopping, plunge-heart blouse  was seen on actor Alia Bhatt, earlier this year. "This 'barely there' piece has become a statement among young wearers, and we've received so many inquiries for it. The quintessence of my brand's ethos is the criss-cross blouse, and last year, we unveiled the 'infinity blouse'…this unique piece is inspired by the number eight," he reveals.
The inspiration behind the plunge-heart blouse came from the plunge for the deep neckline and heart from the sweetheart shape. "It's bold and elegant, at once. This blouse balances revelation with mystique, showcasing a minimalist-yet-striking silhouette. Our criss-cross blouse design came from the visual appeal of multiple strap variations and interlacing patterns," shares Manish.
The dual strap bralette, featured criss-cross detailing on the front hem that extends to the back as thin straps, gives the illusion of an open back. "The criss-cross blouse has been our canvas, reimagined every season with vibrant hues, evolving shapes, eclectic sleeve designs, and a medley of handcrafted embellishments like sequins, zardosi, and pearls. The infinity blouse, too, has been a subject of artistic reinterpretation, each version capturing the zeitgeist and continuing to captivate our distinguishing clientele," he adds. 
SUNEET VARMA: THE GILDED BREASTPLATE
The gilded breastplate was part of Suneet's debut show in 1992, which drew inspiration from Sandro Botticelli's painting The Birth of Venus. "I wanted to create something inspired by this beautiful woman in the artwork, caressing her breast, being born from a shell amidst a sea storm. I didn't want to shock or scandalise, rather titillate a bit. I like a bit of seduction and flirtation," Suneet reveals. He adds, "When you don a breastplate, your breasts are not exposed as there is a plate on it. It's the idea of hide-and-seek that I love…what you choose to reveal and conceal. It's the flash of the bosom or arm or waist or back." 
Staying true to his lexicon, his recent couture showcase saw a number of saris worn without any blouse. "I put jewels on the back. It allows people to dream and fantasise. Can you wear a family heirloom in a more seductive and creative manner? This is where my sense of beauty lies," Suneet adds.
The requests for the SV breastplate haven't ebbed over time—from stylists for actors' red-carpet outings to clients. "It is made from acrylic and sculpted on a mould. It's an extremely expensive process to make a mould, which takes many months. The breastplate is the iconic inspiration and from there comes the SV blouse, which is either beaded or harnessed," Suneet reveals.
QBIK: THE UNDERWIRE BLOUSE 
In 2016, designer Vrinda Sachdeva of Qbik unveiled a green, hand-embroidered choli, as well as a hand-embroidered corset that was worn by actor Shilpa Shetty Kundra. Vrinda has sold over 3,500 pieces of both worldwide, ever since. 
Soon after, she began experimenting with a new form of blouse, that featured an exposed underwire. Initially, Vrinda tried working with underwires that were available in the market, but she didn't like the way the final product looked.
"So, we decided to weld brass and stainless steel together and exposed the metal at the cleavage. The result was the greatest, boldest fit we ever achieved. We could mould it by ourselves, so we controlled the production, sizing, and design of the underwire, which was the most exciting part," Vrinda reveals. 
In her latest collection Dhaatu, Qbik has launched three more underwires. "It has become our goal to make the underwire do more than just support the breasts. Apart from introducing two new polishes in our underwires—gunmetal and rose gold—we are launching three daringly innovative underwire bralettes, 'The Big Wave', 'The Bar', and 'The Capsule'. They command attention, seamlessly merging underwire elegance with a choker's bold statement," she says. 
JJ VALAYA: THE PUFFED SLEEVE BLOUSE
For the past 33 years, couturier JJ Valaya has experimented with blouses, some having become huge hits. "Our version of the puffed sleeved blouse has become synonymous with our design house. It's a sexy little number, with dramatic puffed sleeves and embroidery all the way to the wrist," JJ shares.
"In 2019, we reintroduced this style with a green sari and ever since, it has remained in high demand. Moreover, it's copied left, right, and centre…but, I suppose, imitation is the best form of flattery," the designer states. The silhouette, with intricate embroidery, varies from simple designs to elaborate creations, some that may take a month-and-a-half to make.
"If we look at our royal history, blouses always had fascinating puffed sleeves, which added a twist to the otherwise traditional silhouette. Our exploratory journey is still continuing and we are experimenting with it even now," he adds.
ARPITA MEHTA: THE CHAINMAIL CHOLI
Arpita Mehta's sparkling design universe is inundated with sheen-inducing blouses—either in chainmail fabric or with mirror work. "Among our archival treasures, a piece that has etched itself as a hallmark is the Y2K-inspired chainmail top. I created it in 2020, and adorned it with our distinctive 3D mirror, floral appliqué embroidery. I wanted to merge the energies of disco and the vibrancy of Indian festivities with this design, and was also inspired by artists like Britney Spears and Christina Aguilera, whose fashion sense had left an indelible mark on me," says Arpita.
With the passage of each season, Arpita has re-envisioned this pivotal design, infusing it with contemporary elements. The versatility of this top shines through in its pairing with lehengas, shararas, palazzo pants, and even jeans, adapting effortlessly to occasions ranging from weddings and mehendi ceremonies to sundowner soirées and spirited night outs.
"A dedicated segment of women consistently gravitates toward this design," Arpita states, and to add a fresh take to it, she unravels a new rendition of this blouse in every collection.
All images: Courtesy the designers and Instagram