The Body Beauty, & Strength: A Photo Essay Through Turmeric
Artist Steffi Elsy Xavier shoots an exclusive photo-essay for The Word. about challenging patriarchal norms.
Artist Steffi Elsy Xavier, photographed by Anjali Towari.
In a societal landscape where the identity of Indian women is frequently and unfairly delineated by their clothing choices, a striking parallel can be established with the symbolic essence of turmeric—both are anticipated to seamlessly assimilate and adhere to established cultural conventions. As an individual hailing from the Malayalee community, born in Chennai, raised in Bangalore, and now rooted in the national capital of Delhi, my experiences traversing the diverse corners of India have unveiled a unifying thread that binds women across different social strata—a collective experience of vulnerability and unease while navigating unfamiliar environments or assertive professional domains.
During my childhood, the strength of a woman was singularly portrayed through appearance—attire, demeanour, and posture. A "strong" woman was one who refrained from excessive smiling, adopting a seemingly sturdy posture. However, over the last decade, my work in the social development sector has unveiled the true needs of communities and the desires of women. This journey has illuminated a glaring gap in communication between brands and organisations aiming to represent women's interests.
I was born into a family of opinionated individuals, where I witnessed both patriarchy and a rebellious culture. I studied in an all-girls school where we were all equals, which relieved me of the additional burden of proving myself. However, gaining my father's approval was still very important to me.
I was 10 years old when I was sexually abused by a tuition teacher. During that time, I realised the importance of being strong, both physically and mentally, as I believed that it would lead to different treatment from people. I tried to emulate the qualities I observed in men within my family and society, who often seemed entitled and occupied significant spaces. I yearned to be one of them.
In my quest to find my place in what was traditionally considered a "man's world", I immersed myself in various sports, which led to a physical appearance that some might describe as "masculine". Consequently, people often referred to me as a tomboy or labeled me as masculine.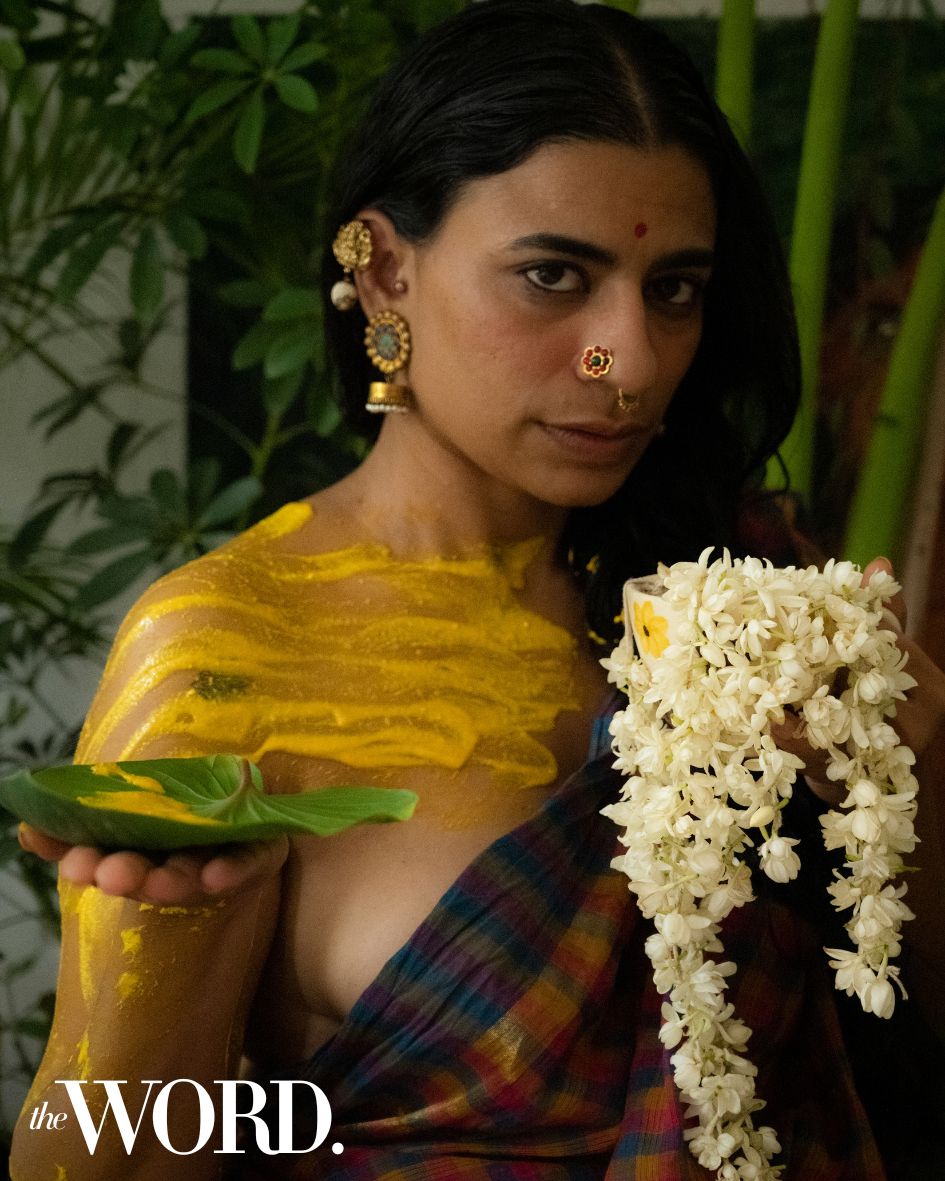 Because I didn't conform to conventional beauty standards, I became a comfortable presence for boys to be around. I never viewed myself as a conventionally beautiful woman, and there was a period where I felt uncomfortable in my own body.
Unfortunately, my father also never expressed that he found me beautiful, which was a source of ongoing pain. He was preoccupied with my appearance, worrying about whether anyone would want to marry me. This constant concern weighed heavily on me, and I frequently grappled with questions related to my identity and appearance. During my formative years, there were limited representations of physically strong women to look up to. This inspired me to embark on a creative journey, using art and photography to capture the essence of traditionally strong women.
However, my perspective shifted when I encountered Medha Patkar, the social activist, and witnessed how she fearlessly occupied a unique space and demonstrated the courage to challenge societal norms. This experience ignited a desire within me to become an informed citizen and advocate against injustice. I also found inspiration in figures like Akka Mahadevi, a Bhakti poet, and Savitri Bai Phule, who made a significant impact on society by questioning injustice and creating opportunities for other women to explore.
I was fortunate to have a few teachers who allowed me to make mistakes and encouraged me to ask questions. I believe it is crucial for all of us to grow in environments that encourage curiosity, where we can freely experience failures, ask questions, and explore our reasoning.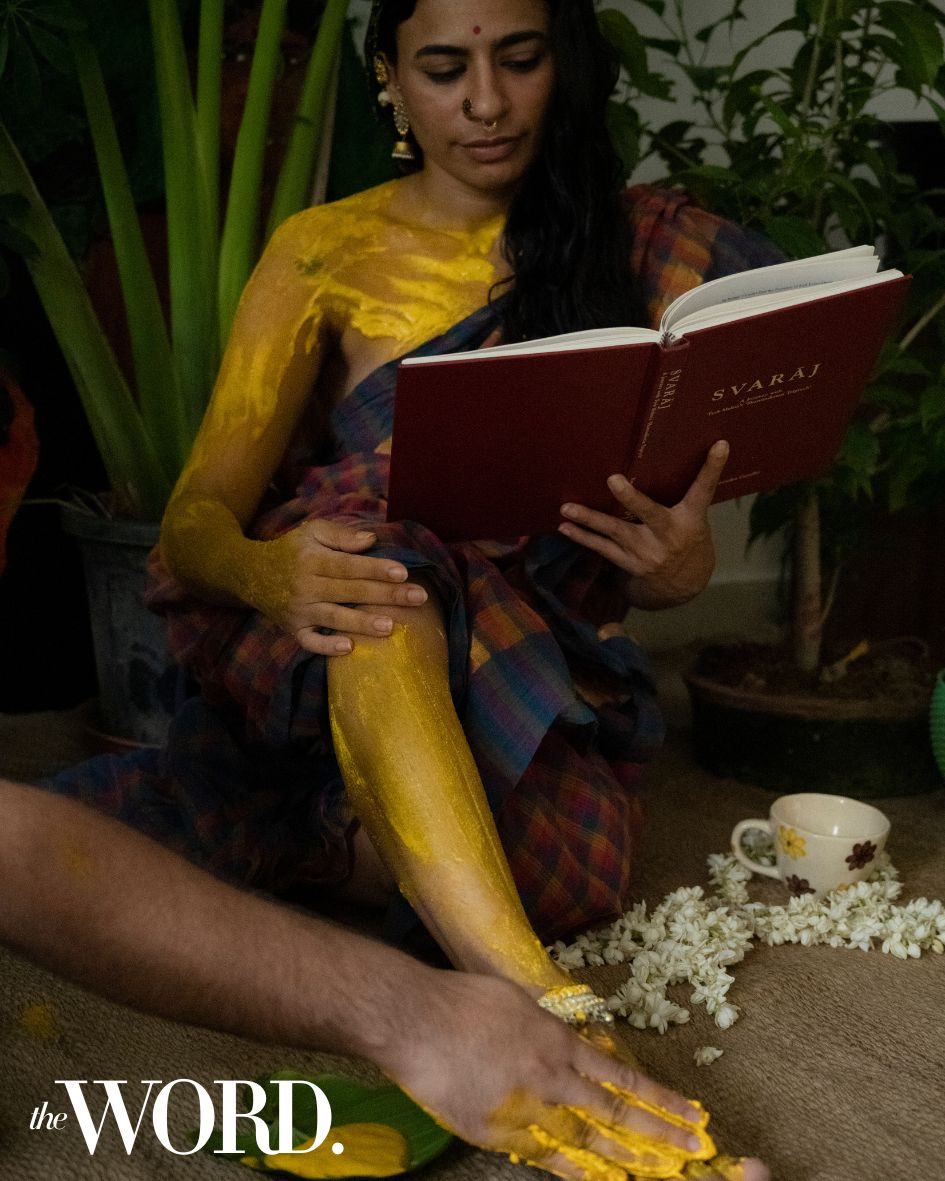 As I embrace my evolving maturity, I've grown more resolute in recognising the superficiality of a world that equates beauty to a mere marketing tool and language creator. Indian women are defined by resilience and tireless determination. Yet, I've come to acknowledge that being "sanskari"—adhering to traditional values—should never equate to a silencing of one's voice or a restriction on clothing choices.
My intention was to portray the patriarchal world we live in, and I took the liberty of using a man's hand to symbolise our society. In most of the pictures, you'll find me smiling, engaging in activities such as reading a book, sipping tea, flexing my muscles, or gazing at the world with joy, even as someone applies turmeric to my body.
Having traversed India, I've had the privilege of collaborating with people from diverse regions. While on work visits, I encountered women of all ages gathered in kitchens or dining spaces. Here, they transformed minimal ingredients into extraordinary meals. These women, often silent but powerful, upheld community and traditions, like the role of turmeric in our kitchens. I felt compelled to visually highlight these traditional women: kind, courageous, physically and mentally robust. They choose to read, laugh, and drive change. Through my work, I aim to celebrate their skin, bodies, and the joy they find in their existence.
After a decade of working with people from various walks of life and different economic backgrounds, I have observed that turmeric is a staple in everyday cooking, and many people believe in its medicinal properties. I recall that when I had a cut or wound, the first remedy people would turn to was applying turmeric to stop the bleeding. During pre-marriage celebrations, individuals would apply a mixture of turmeric and curd to achieve glowing skin.
Even when dyeing clothes, a bit of turmeric would find its way into the mix. If someone fell ill, the remedy of choice often involved mixing turmeric with milk for a potential cure. One turmeric, yet countless stories and beliefs surround it… Just like women!
I firmly believe that to effect change, we must confront the world with the confidence that it belongs to us just as much. It's only by doing so that we can strive to create a safe space for everyone, including women, queer individuals, and other marginalised communities. We require greater representation from these groups to foster a more inclusive and equitable world.
I aimed to convey that an individual's strength comes from within, and this strength can lead to changes in policies and community mindsets. Who knows, it may even pave the way for a brand-new society that is more accepting and encouraging.
As we enter the auspicious season for Indian weddings, the haldi tradition is going to be at its peak. I simply wanted to showcase an image of this beautiful bond we all share with our body, mind, and soul.
Concept and words by Steffi Elsy Xavier
Photographed by Anjali Towari