Seven Books, Seven Rickshaws: An Exclusive Photo-Essay
Content Creator Ankita Chawla of @hustlerani fame shares impactful reads and the backseats of autorickshaws.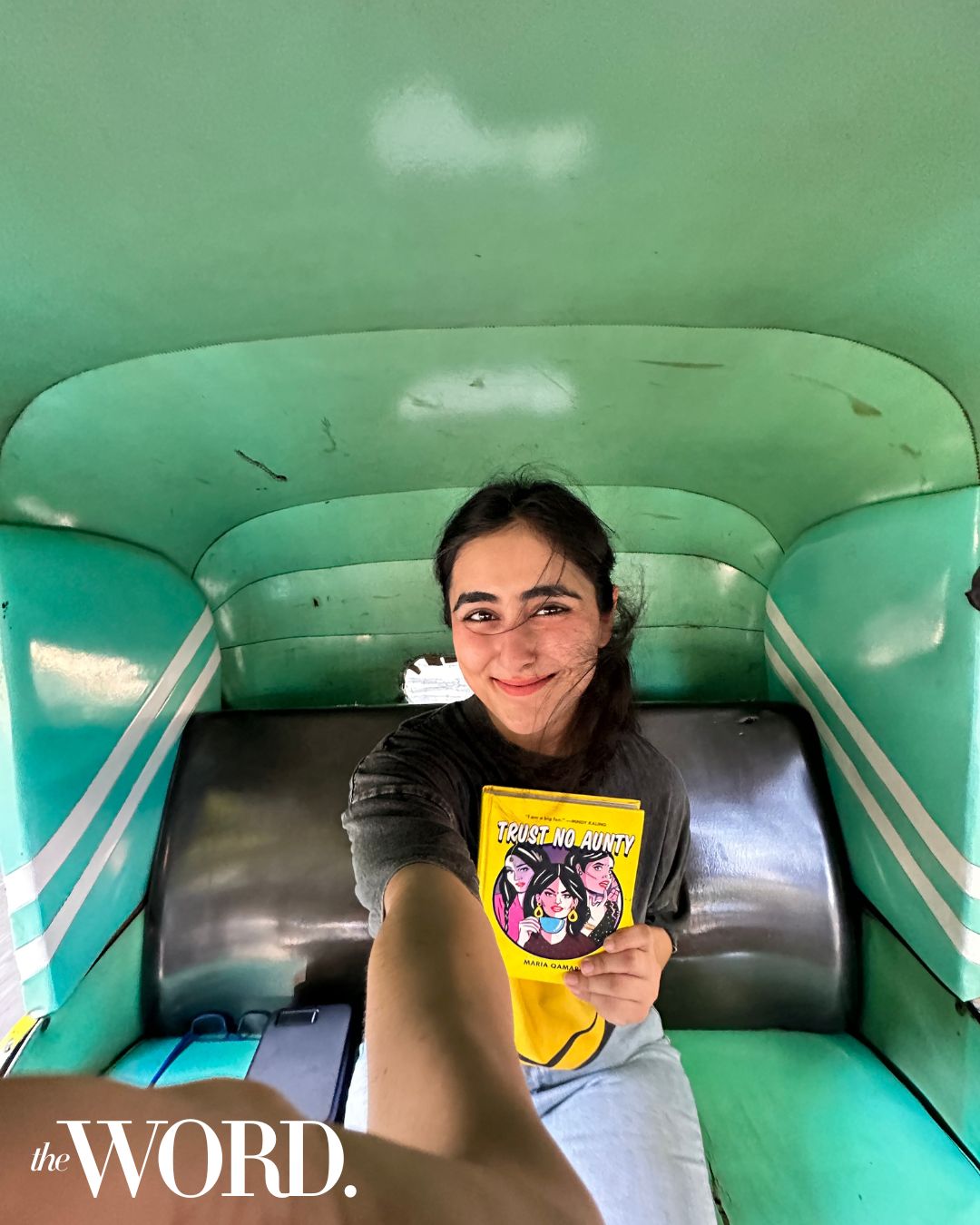 Ankita Chawla (@hustlerani) in the backseat of an autorickshaw, with the book Trust No Aunty by Maria Qamar.
When content creator Ankita Chawla moved to Mumbai a year and a half ago, she, like many locals, had no choice but to commute via auto. "I'm very passionate about spotting colours, patterns and unique frames," she tells The Word., "and I noticed that each and every auto had a unique interior."
As Ankita began capturing herself in these commutes, she began to realise that the interiors would often match her outfit, or even her mood. "The interiors are also a reflection of the personal choices and identity that the auto rickshaw driver would want to depict, because this is not just their main income source, but are also used by them to nap in the afternoons… So, it's obvious that they put their heart and soul into making these autos a mini, colourful home for themselves."
These autos would often have tiny aquariums, she tell us. Some would have tiny refrigerators, tiny plants, or sanitizers and newspapers…"all of it was really fascinating, hence I started documenting it".
Ankita began sharing her auto rickshaw discoveries with her community on social media, and the response was wonderful, because the interiors were bright and beautiful. " A lot of people are under the impression that I only sit in an auto if it's a good looking one, but that's not true," she explains. "It's mostly luck sitting in a really colourful auto and documenting it. The criteria of shooting an auto selfie is never to be really picky; it is to always make it a habit of clicking one whenever I'm in an auto." Ankita then compiles all of them into a carousel post.
But are the interiors of autos gradually changing? A self-confessed fan of maximalism, Ankita laments the end of excessive details. "The love for Shahrukh Khan, the positive quotes, the décor and utilities that they would add in their autos would make such a big part of the impression I have of the city…what it means to explore the outdoors in a city like Bombay," Ankita shares.
Most of the auto-selfies she has clicked so far have been in Chandigarh, Delhi, and Mumbai. And in order to keep the image clear and not shaky, she ensures that she clicks them in appropriate sunlight, or uses a flash for the evenings. "My main trick for shooting pictures in the auto is by using the 0.5 setting on my iPhone 14 Pro, and making sure I take enough pictures for me to choose the most stable and non-blurry take from the lot. That's about it," she lets in.
And just like Ankita's beaming clicks uplift the mood of her audience, the very act of shooting them is an ongoing source of joy for her. "Even if I'm in a bad mood or the weather is bad, this daily ritual keeps me going. Even if I'm going to the gym at seven in the morning and I'm really sleepy, there's a voice inside my head that tells me that I must document this auto and that's about it. It's a big part of my lifestyle now in Mumbai."
And with the number of rides she has taken and clicked in, Ankita will often bump into a driver again. "It becomes a great conversation starter for me, to tell the auto driver (bhaiya) that I'm really fond of the way he has decorated his auto. I do feel commuting in Mumbai is never transactional, because we're stuck in traffic for such long hours. Making conversation with the people who drive us home has helped me find an art form I never knew existed."
Ankita Chawl'a selection of books that spark her creativity:
The Practice by Seth Godin: "This book was gifted to me, by a friend who has always cheered me on for my creative endeavours."

Stationery Fever: The History of Paper Clips and Pencils and Everything in Between: "I am a stationery nerd and a retired stationery hoarder. I absolutely love the concept of designer erasers, why do they exist? Why do we need them? Who invented the sharpener? So many questions answered in this book."

Inside Black Mirror by Charlie Brooker: "Black Mirror is one of my favourite TV shows, so a book by the creator himself explaining all episodes had to be on my shelf."
4. Note to Self by Connor Franta: "This book is an intimate, personal diary of Connor, who is as confused as any other 20-something. Reading someone else's confessions on feeling too many emotions at once is truly a respite on tough days."
5. The Artist's Way by Julia Cameron: "This book was given to me by a friend who offered me inspiration and a soundboard for my bigger plans during the pandemic. This book taught me the importance of journaling through a practice called 'morning pages'. It's a must-read for any creative professional trying to understand themselves better."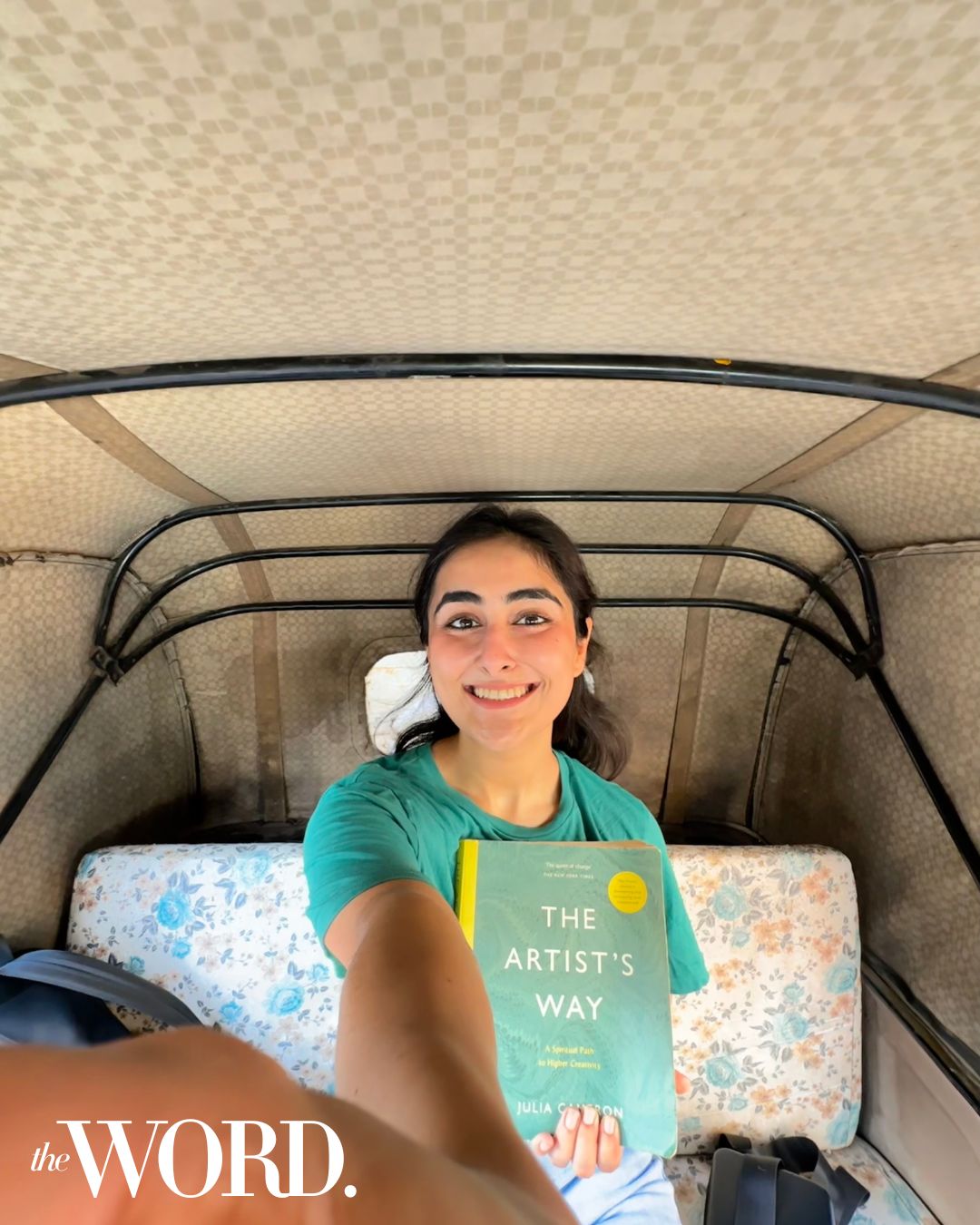 6. Trust No Aunty by Maria Qamar: "I am not ashamed to admit I prefer books with pictures more than novels. A picture book with an iconic cover, combined with slander on the toxic aunty culture in India is exactly the treat I need on a beach, sipping on mimosas."
7. The Comfort Book by Matt Haig: "I am a big Matt Haig fan…I remember being gifted a book called The Humans by him and was immediately drawn to his writing style. The Comfort Book was a no-brainer purchase at an airport book store, when I had had a coffee or two, and was too wired to sleep on a 3 hour flight."