Madras Check: India's Gift to the World
A journey from the lungi to Ivy Leagues and runway fashion.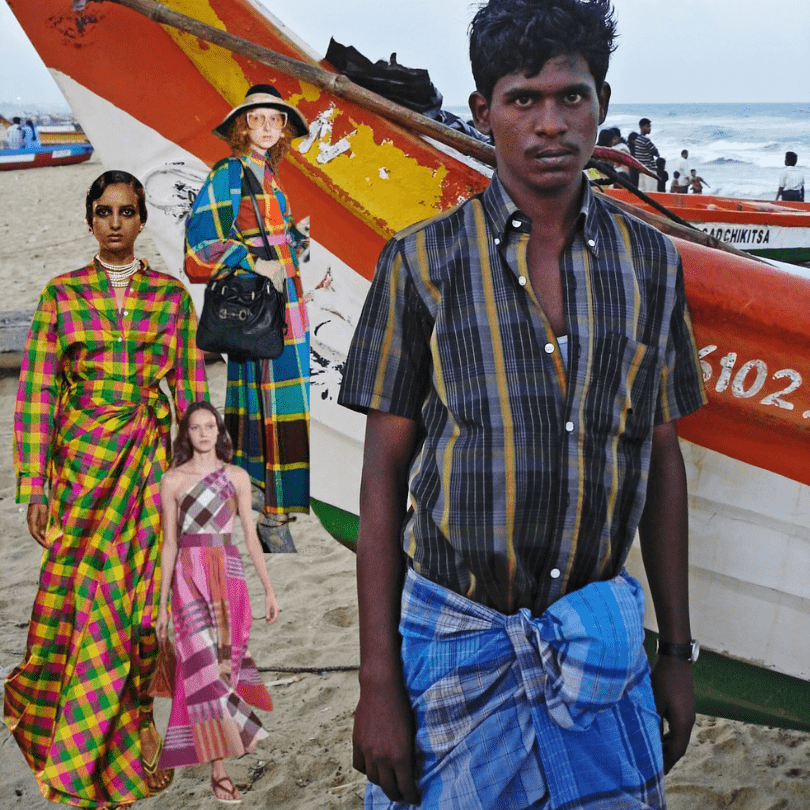 Madras check was born in the fishing village of Madras (then called Madrasapatnam, now Chennai), in the 13th century and turned into a much-loved fabric across the world. Madras check is breathable and lightweight—the fabric of the common man and the labour class, perfect for a sweltering Madras summer, worn around the waist as a lungi. This important textile is known by other names too—Madras plaid, Guinea Cloth, George Cloth, Real Madras Handkerchief (RMHK), and Bleeding Madras (the fabric bleeds colour with every wash, and leaves behind a unique finish).
The making of authentic Madras plaid involves a labour-intensive process. High-quality cotton yarn is hand-spun, then dyed using natural vegetable dyes. Next, it is meticulously woven using traditional handlooms and an interlacing technique, and finally washed to make the fabric softer.
Around the 14th century, Madras check made its way to the Middle East and Africa, to be made into head wraps. Then, in the British colonial era, it found tremendous favour with the officers stationed in India, who returned home with the vibrant fabric featuring clean lines. Hailed as an 'exotic, summer fabric' the Madras check began being mass-produced and exported around the world in the 19th century, and quickly turned into a global sensation.
Madras plaid's popularity extended to Australia as well, making it the perfect fabric to create lightweight shorts and shirts with. And in Ghana, the handloom cloth became integrated into traditional Ghanaian clothing; in fact, it is even the official national dress of several island nations of the Caribbean. The Portuguese brought Madras check to Nigeria, and the local Kalabari tribe referred to it as Injiri, meaning 'real India'. The material began being used by the tribe during special ceremonies, including after child birth where the mother and child are wrapped in Madras check. As 'Madras' became more precious, it was used by traders in West Africa in exchange for slaves—for many enslaved Africans, the fabric became a symbol of suppression. 
By the mid-20th century, the Madras check—which was now called Madras plaid—had reached America, and quickly became associated with preppy fashion worn by wealthy college students and holiday-goers, with a nod to East Coast Ivy League aesthetics. In The Official Preppy Handbook, 1980, it was noted, "If there is one fabric that is quintessentially Preppy, it is madras. True madras, of course." 
Here, 'Madras' was no longer a lungi, but a jacket, a skirt, a shirt, a pair of trousers, and more. The textile had become so popular, in fact, that The New York Times even reported a shortage. Prices for Madras check began to surge, and some manufacturers began producing imitation versions, often made with less expensive materials and synthetic dyes.
Around 1958, the legendary Brooks Brothers of New York bought 10,000 yards of the trendy Madras to sell all in the USA. But they didn't warn their customers that the fabric would 'bleed' colour when washed, which led to many complaints. The fabric had been bought from Leela Lace Holdings Pvt Ltd in India, and instead of getting into a legal battle with the founder Krishnan Nair, an interview was arranged with the then-Editor of Seventeen magazine. In the following issue, Seventeen magazine ran a seven-page article about "the miracle handwoven fabric from India", and how it was "guaranteed to bleed". Within days, Madras' 'bleed' became a status symbol, with an increased number of fashion stories across publications, and booming business from the likes of Ralph Lauren, J.Crew, and Tommy Hilfiger.
Much of the Madras available today is no longer handwoven, and the bleeding 'problem' was fixed years ago. It is still used in fashion collections and everyday wear, without the mention of its glorious (and troubled) past.
More recently, the Madras check was seen on the runways of Hermès, Tory Burch, Gucci, and Ralph Lauren. During Dior's Fall 2023 show at Gateway of India, Mumbai, Creative Director Maria Grazia dressed a model in a beautifully-crafted trench coat, in Madras check. In a press release, the luxury Maison said, "Making a multicolour optical impact on the runway in Mumbai, this Madras check sari silk fabric was specially woven for the unveiling of the #DiorFall collection."
In New York, a third-generation, family-owned business called Original Madras Trading Company still does business in the Madras check, supplying to brands around the world. And Japanese designer Junya Watanabe, of Comme des Garçons, has a special spot for the Madras check, often incorporating it into his avant-garde designs. Meanwhile, Brooks Brothers continues to include Madras check in many collections, under a banner that reads, "We're all mad for Madras".
Closer home, the legendary cartoonist, RK Laxman, often depicted his 'common man' wearing a Madras check jacket. And in the Summer of 2011, Sabyasachi delivered the fabric through a vivid-red lungi skirt, on the runway. Meanwhile, Raw Mango founder Sanjay Garg created a sari in the iconic fabric.
Jaipur-based label Injiri (based on the Nigerian name for Madras check), creates garments based on explorations in regional techniques, including the 'Madras'. And streetwear brand Huemn features on its e-commerce site, a 'Madras lungi inspired by the streets of India'.
But if you really want to see the Madras check in its true glory, you only have to roam Chennai, where the labourers and street vendors and daily-wage workers and fishermen wear it to keep cool on a hot, humid day.
All images: Courtesy the brands and Instagram