Lux Girls Of India: The Romance of a Soap​
A nostalgic account of the original beauty influencers.
Once upon a time, when beauty influencers on social media didn't exist, the 'Lux Girls' of India ordained what skincare product to use—Lux soap, from head to toe. That was the power of Lux soap and its ingenious marketing, which helped the skincare brand gain cult status since its launch in India in 1941. In fact, being chosen as the face of the coveted Lux campaign became the stamp of approval that an actor had arrived as a star.
Lux was first introduced in America by the Lever Brothers, as a more affordable option to the expensive, luxury, French soaps. The novelty of this soap was that it was created from palm oil, rather than tallow that was derived from beef or mutton fat. The Lux soap was white in colour, with pastel-hued packaging, and in 1928, they launched an ambitious campaign that would change the fortunes of Lux—their agency sent cases of soap to 425 Hollywood actresses. In return, 414 actresses actually endorsed them, giving rise to the claim that 9 out of 10 actresses use Lux soap.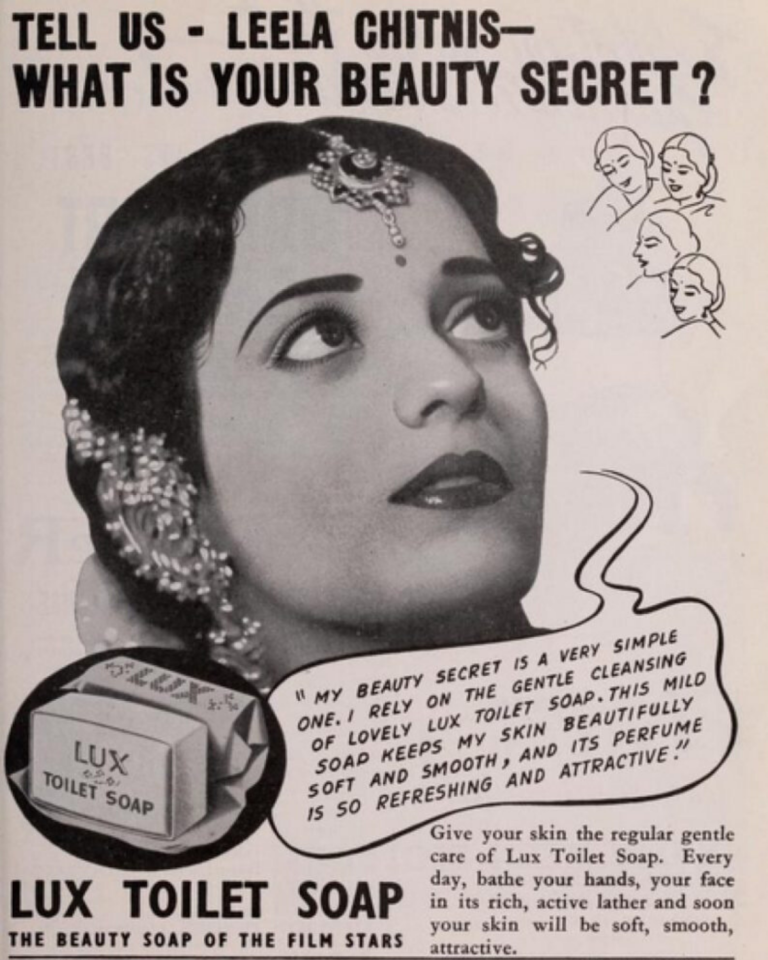 Superstar Leela Chitnis was the first Indian actress to be on the Lux soap ad when it launched in India in 1941.
For its first-ever campaign in India, the brand roped in then-megastar Leela Chitnis as its brand ambassador, who had delivered mega hits like Kangan (1939), and Azad and Bandhan (both in 1940) with Bombay Talkies. A black-and-white poster revealed her "very simple" beauty secret: "First make a generous lather of Lux toilet soap. Pat it gently into your skin. Then rinse in clear cold water" [sic]. Promising to "deep cleanse", "remove dust and impurities that can cause blemishes", and being infused with a "sweet and refreshing perfume", Lux soap ensured that every actor worth her sparkling presence was featured in their campaigns.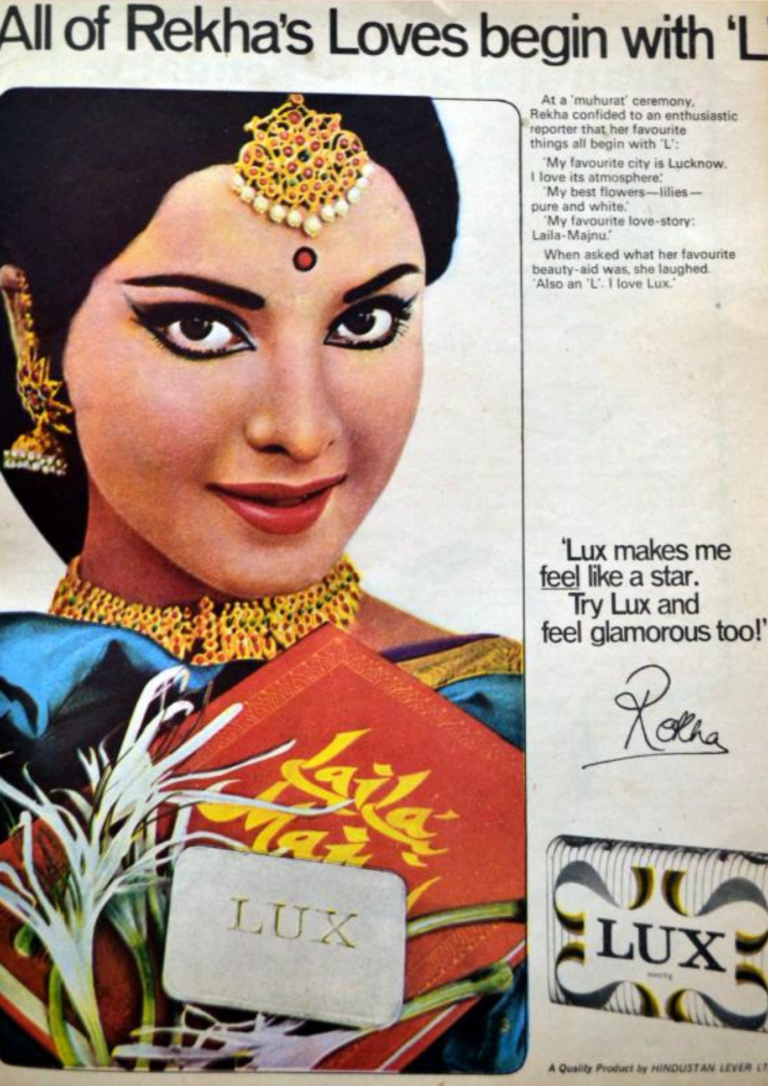 Actor Rekha in a Lux campaign.
Their tagline continued in vernacular languages, which helped the brand make deeper inroads into the country: "Filmi sitaaro ka manpasand saabun" or the "favourite soap of film stars" began to be embraced by fresh faces of the 1960s like Simi Garewal, Saira Banu, and Wahida Rehman, followed by Zeenat Aman, Helen, and Hema Malini, among others.
With the onset of the 1980s, actors like Madhuri Dixit Nene, Sridevi, Karisma Kapoor, and Juhi Chawla became the "Lux Girls" on billboards and magazines across the country. And in the years to come, names like Aishwarya Rai Bachchan, Kareena Kapoor Khan, Priyanka Chopra Jonas, Deepika Padukone, Alia Bhatt, and Rani Mukherji went on to being the stars of the brand. Over the years, Lux soap introduced a number of variants, including fragrances like saffron, rose, lotus, jasmine, almond oil, mint, and more.
While skincare regimes today have grown to nearly equal the alphabet chart, there was a time when nearly every woman who wanted soft, glowing skin turned to the hallowed Lux soap. These vintage ads are a testament to the brand's nationwide presence and powerful branding. 
Actor Sridevi became a mega star in the 1980s, and her face being on the campaign added to the firm presence of Lux in India.
Actor Zeenat Aman in a campaign in 1978.
Actor Simi Garewal grew as a star in the 1960s and '70s.
A collector's poster featuring Madhubala.
Actor Vyjayanthimala in a Diwali campaign.
Hindi and Marathi actor Nanda, who commanded cinema through the '60s and '70s, sporting a stylish head turban.
Actor Mala Sinha was a leading lady in the late 1950s, '60s, and early '70s.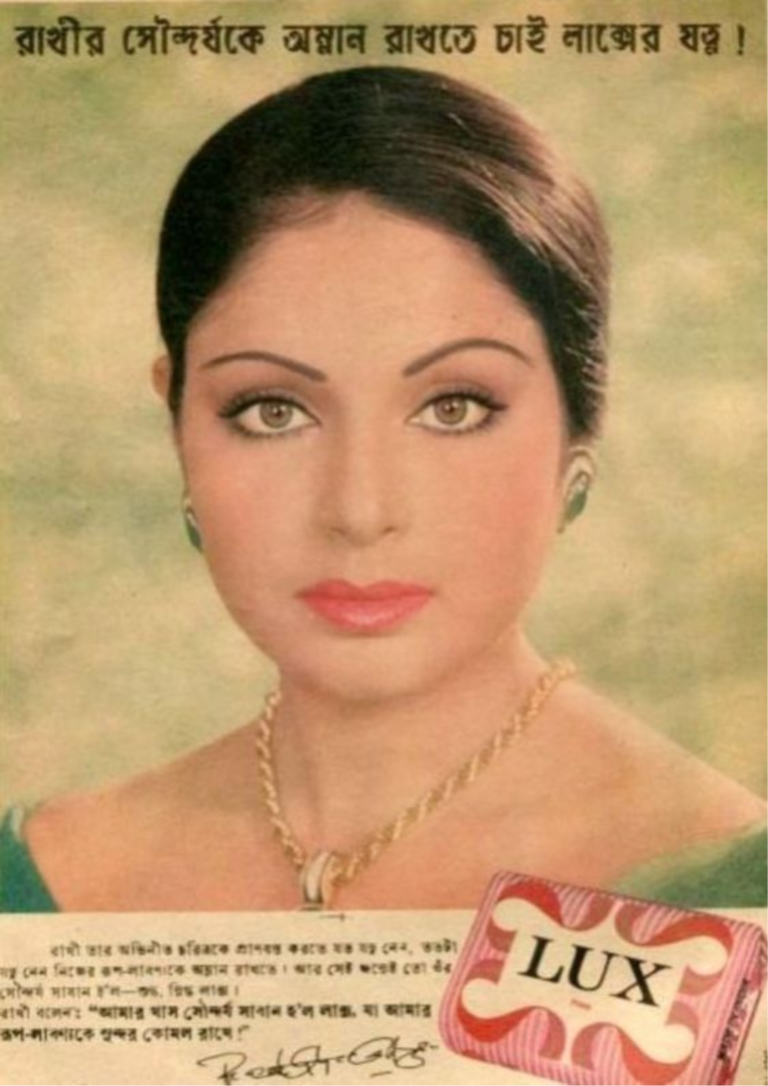 Actor Rakhee in a Lux campaign.
Actor Nirupa Roy, also known as the "Queen of Misery", enjoyed a five-decade-long career from 1946 onwards.
Actor Shabana Azmi mader her debut in 1974.
Actor Zaheeda was known for her roles in Anokhi Raat [1968] and Gambler [1971].