Suchitra Pillai is ambitious, sexy, and living it up at 53
The Word. Magazine presents The Ageless Series, a powerful photo-essay on the many joys of growing older.
Actor, model, and singer Suchitra Pillai, age 53 for The Word. Magazine's 'The Ageless Series'
The Word.: How do the media and society perceive a woman over 50?
Suchitra Pillai: "Society perceives a woman over 50 as a cougar. And I love the title! I mean, it's so good to be a cougar. [laughs]
The truth is, for women who have turned 50, it's often assumed that half her life is over! But there are people like us who want to prove them wrong. Frankly speaking, I've always believed that 50 is the new 30. The media will often try and peg such women as trying too hard, unless of course they prove otherwise, which is what we are all about."
TW: How old are you and how old do you feel? 
SP: "I am 53 years old as of August 2023. And I feel 25.".  
TW: What is the best thing about growing older? 
SP: "The best thing about growing older is definitely not the grey hair, which you have to keep colouring [laughs]. But the best thing, I would have to say, is the fact that you get to see your offspring growing up in front of you and, hopefully, becoming like you." 
TW: Do you think the world does enough to celebrate women beyond a certain age? 
SP: "While the world hasn't done enough to celebrate older women, though I think that is changing a little bit. There are enough and more women who are proving the point that the world needs to sit and take notice of us…you know, wake up and smell the coffee that we're not 'over the hill', we're not one foot in the grave, we're not all of those different metaphors.
We are strong women, we are women who are capable of anything that even a 25 year old can do. An example in point—I did a musical in 2018, I was 48 then, and that play also had actors who were 22 or so. I was singing, dancing, and acting—19 songs on stage. And I kid you not, the 21 and 22 year olds would come up to me and ask, 'Suchi ma'am, where do you get your energy from?'
Sure, your hips may hurt with the heels, but it's all in the mind. And the mind can overcome anything and everything."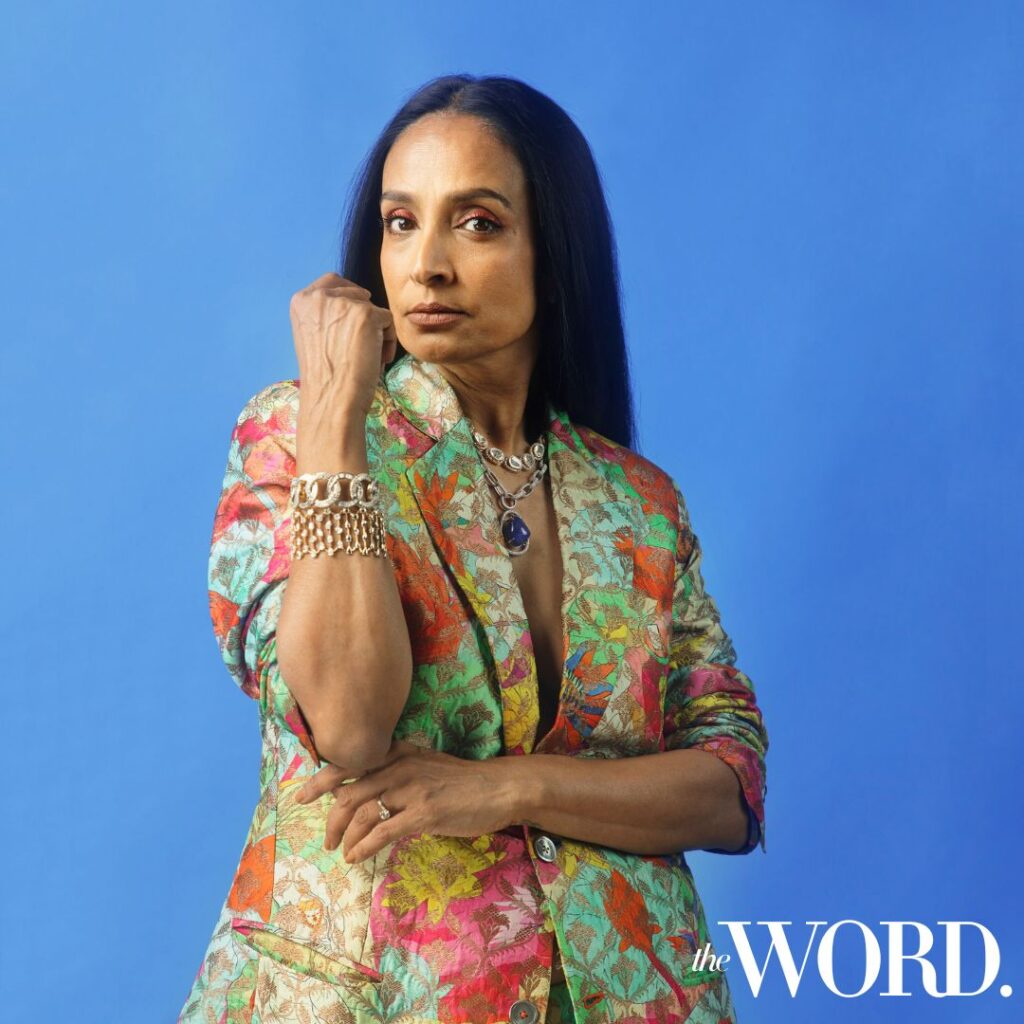 TW: Do you think ageism affects women more than men? 
SP: "Yes, it does. Women are more accustomed to being worried about the wrinkles and the many treatments that are out there for us to look younger. 
This is so different for men, who are so widely appreciated for their salt and pepper hair. I mean, look at [actor] Richard Gere…"
TW: How has your perception of beauty changed over the years?
SP: "I had a very good example to look up to, as far as my idea of beauty is concerned—my mother. She's 80 and you won't see any wrinkles on her face or sagging skin, she always maintained herself. She is one beautiful woman. She always has a smile on her face despite having a stroke, and she has been fighting it fully.
My mother has always kept her look simple…classy yet stunning. A swipe of eyeliner, lipstick, hair in a plait, a crisp cotton sari, and that was it. And yet, she would floor everybody. So it really doesn't take much for you to be considered beautiful.
And that's why my perception of beauty has grown with watching my mother grow older. I just hope I get to be like her."
TW: Would you say you love yourself more than you did a few decades ago?
SP: "I have always loved myself. A few decades ago, I was a different person and I have grown to who I am today due to all of those experiences in those decades. So, I appreciate the fact that the past decades have added to who I am today.
When I was younger, I was a hyperactive girl who was always looking forward to things. I am not so hyperactive now, because of the aches and pains, but I still have that same zest for life… I want to do a million things because you have only 24 hours in a day and I want to do things for 48 hours in 24 hours."
TW: What makes you feel sexy?
SP: "When I dress up for myself. When I look in the mirror and say, 'I don't care if there's a line here or there. Somebody else finds it beautiful. I find it beautiful'. That is what makes me feel sexy. 
What else makes me feel sexy? All of those 30-year-olds who are after me these days. [laughs]" 
TW: What brings you joy?
SP: "Music brings me joy…that is my passion, that is my joy. Standing on a stage, singing to people brings me joy. But more than anything else, it is seeing my daughter blossom into the most gorgeous human being ever, inside and out, that gives me joy."
TW: What do you love most about your life?
SP: "What I love most about my life is the fact that I have managed to juggle a whole bunch of things, keep my fingers in many, many pies, but still do justice to each and every one of them. Some people think of me as an actor on TV. But I do theatre, television, OTT, I'm a dubbing artist, a compere, singer, and lyricist. Direction or production, may be the next thing, who knows!
I have this zest for life which is still very much there and I think that's what keeps me going and happy."
TW: What does timeless mean to you?
SP: "Timeless, to me, means that quality about a human being or thing that doesn't need to be defined, which is just there. If you just be, you're timeless."
TW: If you could go back in time, what advice would you give to your younger self?
SP: "The best bit about my life is that there has never been any regret. So I've always told my younger self that life is only going to get better. Wait till you turn 50!"
TW: What makes you laugh?
SP: "Anything makes me laugh! Essentially, I'm a happy person, I like laughing, but I can also be very emotional. I sometimes cry watching cartoons, that is also me…
Good humour and wit make me laugh. I consider wit to be more important than just cracking jokes…when you have repartees or when somebody can answer you right when you think you've got the better of them, that makes me laugh."