4 Stylish Women On Their Most-Loved Mini Bag
The teeny-tiny arm candy may seem impractical, but it rates high on style quotient.
The miniature, microscopic Louis Vuitton bag created by New York-based art collective MSCHF
The Word. Magazine speaks to four contributors on what makes micro bags so covetable…and why they treasure these pieces even though they don't offer them the comfort of carrying their entire world in them.
Esha Amiin
Stylist and Designer
"This Jacquemus Le Chiquito Mini Handbag in orange is one of the many fun bags I own. I bought it in Rome last year, and the moment I saw it, I knew how much I would enjoy carrying this beauty—it definitely makes a statement.
I can pair it with formalwear and casual looks, and it can easily fit my phone and lipstick in it. I love colour blocking, and orange is such a versatile shade that works well with pink, purple, beige, yellow, black and white stripes, prints… The last time I was in LA, I paired this bag with a black, fringed blazer and printed pants, and it paired so well with the look."
"The Aiza Sling Bag from AMPM is my current favourite. It is well crafted, and I love its clean, minimal aesthetic and its structure and shape. As a fashion stylist, I am always on the go, and I need a sturdy bag that can house my laptop, power banks, stationary, among many other things. So this bag comes out occasionally, on non-working days when I am not required to carry many things—like for dinners or events. But you'll be surprised to know that it can fit my credit card, cash notes, lipstick, miniature perfume, sanitiser, and tampon."
Devanshi's Photograph By: Piyush More
Pavitra Sagar
Digital Creator and Co-Founder, Funky Fish
"When I was young, I used to observe my mother pair different bags with her saris. At that point, I used to think it must be so cumbersome to move the contents of your bag every time you go out. But I guess the apple doesn't fall far from the tree—I am always on the lookout for statement bags that are unique…pieces that can transform a basic outfit.
Judith Leiber's Gift Box Evening Bag is one of my favourite accessories—I love how fun and quirky the style is. But I love people's reactions to it even more! Everyone thinks it's cute but impractical. I have always wanted a Judith Leiber that I could use with both Indian and western ensembles, and this one fits the bill perfectly. Over the years, I have paired it with dresses, saris, gowns, and more. It may look tiny, but this bag can fit a lot of things like my keys, credit cards, compact powder, and lipstick, which is really not bad given its size."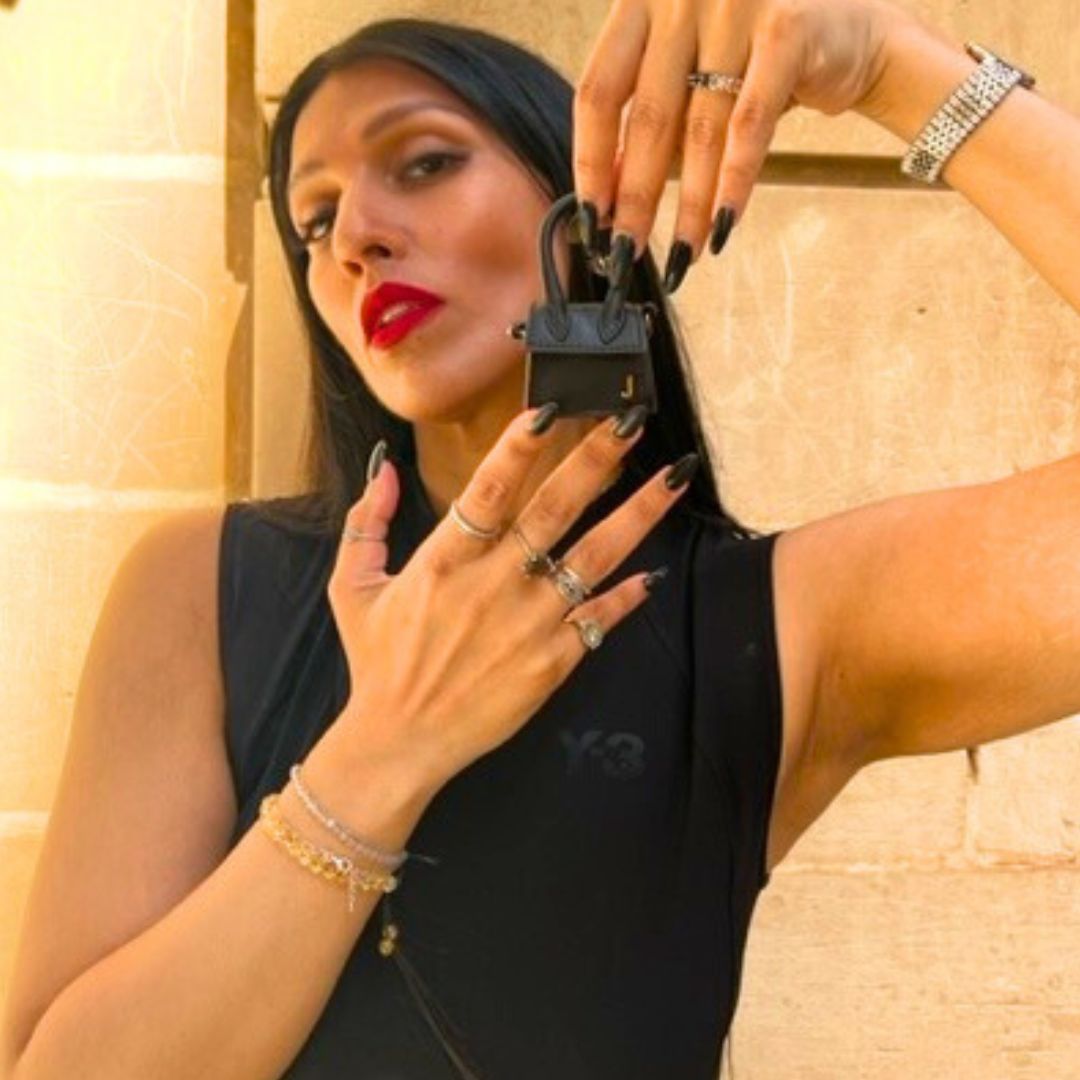 Aishwarya Nair
Hotelier and Lifestyle Consultant
"Jacquemus has come out like this bright shining star in a rather stagnant and ephemeral fashion world. I love the brand and its brilliant marketing skills… This micro bag, especially, is classic, timeless, youthful, and fun. And I absolutely enjoy that about my tiny wonder of a purse.
When I wear this bag, people's first reaction is, 'Is that really a handbag?'. I bought it off Net-a-Porter, and I was instantly attracted to its whimsical nature of having to fit almost nothing and yet be a complete style statement—my Le Chiquito Micro Purse can literally only fit a penny, but it is a serious play on less is more. Because it's brushed black leather, I like to pair it with simple pieces. I last wore it to an opera at La Scala in Milan with a black Prada knit turtle-neck and a high-waisted AWAKE cross-cut skirt."